Insights from Industry – HR Panel
September 25, 2019 @ 9:00 am

-

10:30 am

ADT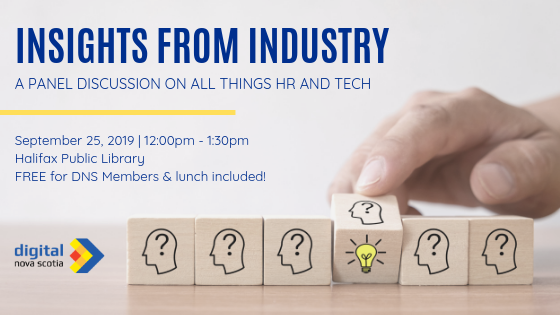 When it comes to HR, sometimes you just want to speak to someone who's been there and done it.
Join us for our next Info4Impact and hear from the people on the ground. HR professionals from the tech sector will share their insights on everything from recruitment and retention to conflict resolution during an interactive panel discussion and answer all of your burning HR questions.
Our line-up includes Jennie Sandford Head of Operations at Proposify, Nick Misener, Senior Consultant Information Technology at Venor, Nicole Seamone HR and Talent Lead at REDspace, and Nea Publicover, MBA, PMP, VP of Employee Development, MOBIA Technology Innovations. Each panelist brings their experience from the tech sector, and a unique perspective on recruitment, hiring, onboarding, and operational processes. 
Submit your questions upon sign-up and our panel will answer them. We will then open up the floor for additional questions at the end of the session!
About the Panelists:
Nick Misener, Senior Consultant, Information Technology, Venor
An experienced recruitment consultant with a passion for helping businesses and people grow, Nick focuses on Information Technology recruitment within Atlantic Canada, taking an empathetic and energetic approach to working with both clients and candidates. Nick brings over five years of recruitment and human resources experience to Venor and a track record of results, having worked with venture capital backed tech start-ups through to Fortune 100 companies to solve their unique talent challenges.
Jennie Sandford Head of Operations, Proposify
Jennie is the Head of Operations at Proposify, a Halifax based SAAS that helps create beautiful proposals and close more deals. Jennie oversees HR, compliance, and resource implementation for the company. Before working at Proposify, Jennie graduated from Dalhousie (Science) and NSCC (Human Resources). She has worked her way through the HR world for 10 years and has become a Certified Human Resources Leader.  She spends her spare time working in creative media such as YouTube and podcasts under the name Moxey Munchies.
Nicole Seamone, HR and Talent Lead, REDspace
With over 10 years experience working in HR, Nicole has spent the majority of her career focused on recruitment and talent attraction in the technology, HR, and hospitality industries. In her role as HR and Talent Lead at REDspace, a world-class software development company, Nicole provides hands-on HR support to the organization—assisting the overall business growth strategy as well as providing day-to-day HR and operational needs. Nicole enjoys building relationships, and considers herself lucky to work with a diverse, multi-talented team of over 200 people everyday!
Nea Publicover, MBA, PMP, VP of Employee Development, MOBIA Technology Innovations
With a varied background in operations management, project management, and business development, Nea has had the privilege of getting to know MOBIA's operations from many different angles over the past 15 years. In her current role, she puts these perspectives to work in effecting the employee experience and endeavoring to make MOBIA an amazing place to work. Nea works with a knowledgeable team that cares for recruitment, HR, career development, and employee engagement functions for over 340 employees. Employee Development is a fun and engaging space to work in everyday and comes with great rewards for the soul, the heart, and the company.
MODERATED BY:
Christine Isnor, CPHR, CEO, INgage HR
Christine has been practising HR for more than 20 years. She has worked in National and International organizations as senior in-house HR and most recently, she is providing HR guidance to emerging, small, and medium sized organizations in Atlantic Canada as the Owner/Founder of INgage HR.
She deploys a scalable and flexible service model, common sense, and humour to develop amazing people operations that founders, CEOs and employees alike can be proud of. Relaxed, authentic, and approachable, Christine's passion is working within organizations to make businesses and their employees alike, successful.
Related Events