Webinar: Data Storytelling: Application of Storytelling Components
April 15, 2020 @ 11:00 am

-

12:00 pm

ADT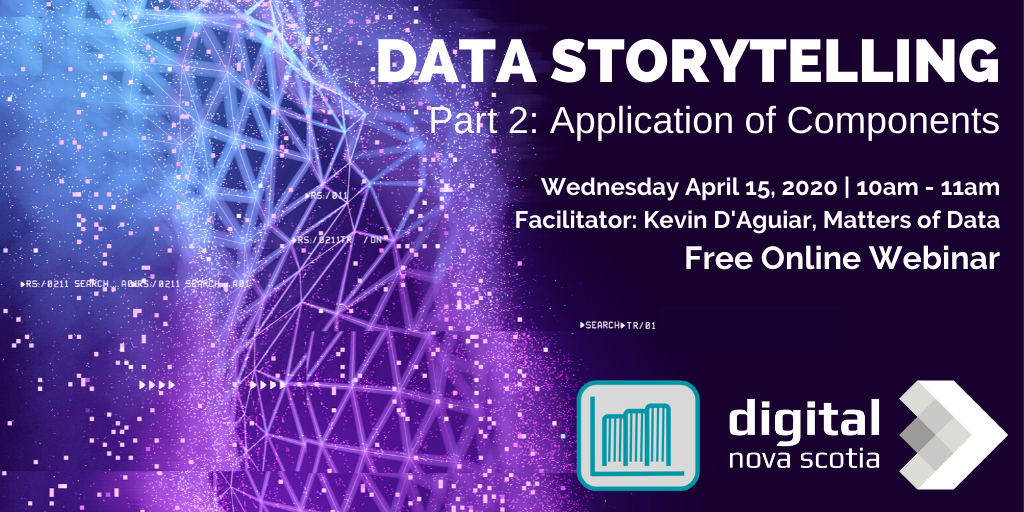 Every organization is dealing with change during the global health pandemic, whether it's financial instability, shifting to remote workplaces or dealing with new processes. In the long term there will be another major change when we transition into the "new normal" following the COVID-19 crisis. This new reality will likely look very different for the business world and how we reassure clients, employees, investors and stakeholders will be more important than ever. 
In Part 2 of this 3-part series facilitated by Kevin D'Aguiar from Matters of Data, business leaders gain skills to help manage these changes through effective communication. Kevin teaches key tips and tricks for applying storytelling techniques in presentations to keep the audience engaged and interested. 
Participants will walk away from this webinar with the following:
Do's and Dont's of presentation planning and execution

What visualization is best to use when data is part of the story
Please note: Participants are welcome to attend this webinar as a stand-alone session, or to participate in the entire series. 
About Kevin D'Aguiar
With over 21 years of experience as an Analytics professional, Kevin runs his own analytics consulting service, Matters of Data. With specialized knowledge in Website Analytics (Google Analytics), Data Storytelling, Benchmarking Strategy, Segmentation, and General Analytics Methodology, Kevin offers a hands-on approach to solving data challenges. He has a passion for translating data into meaningful insights and recommendations that drive business decisions. Kevin has worked with clients spanning many industries, including Finance, Travel and Tourism, Tele-Communication, and Retail Loyalty. The Customer Journey is universal, and Kevin specializes in ensuring every touchpoint is optimized.
About Matters of Data
Matters of Data provides Analytics consulting to businesses who want to grow using data-driven insights. With specialized knowledge in Website (Digital) Analytics, Data Storytelling, Data Translation, Benchmarking Strategy, Segmentation, and General Analytics Methodology.Matters of Data can partner with companies in need of consulting, workshops, or those looking for more of a "hands-on" approach to solving their Data challenges.
Related Events